Thank you for downloading Metatrader 4
Your download is starting in ...5
If your download did not start automatically, please click on the following link for the download to start:
Download Metatrader 4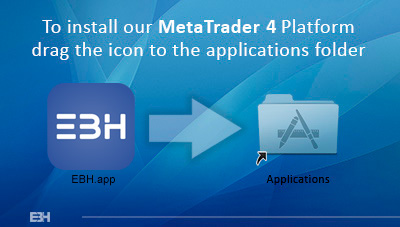 Install your software
A DMG file is a compressed disk image that facilitates an easy-install process. When you download a DMG file, double-click it to "mount" the image, automatically extracting the application. Then you can simply drag the application icon to the Applications folder.
Login to Trade
Go to File then Login to Trade account using the credentials sent to you via email when you opened your account.
In order to trade on a live account you will need to verify your profile. Please log in to your EBH Dashboard and follow the verification procedure.
If you have any questions or need any help please do not hesitate to contact our friendly and experienced support team by opening a ticket here.