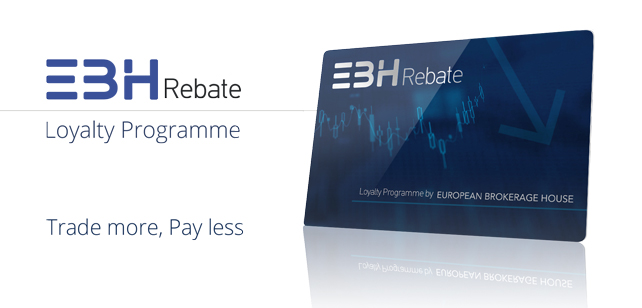 EBHRebate
All professional clients are enrolled into our loyalty programme, EBHRebate. Its fundamental purpose is to foster a better relationship with our clients and at the same time provide our most active traders with greater benefits to tackle the Forex market.
The programme consists of five tiers. Professional clients are automatically allocated to a tier based on the amount of money they deposit or the amount of volume they generate. We take the better of the two to make the calculation. As traders climb the programme's tree to the upper branches, their commission decreases, reducing their operating costs.
The table below provides a comprehensive overview of the programme's structure.
Tier
Net deposit
Commission*
Traded volume

Tier

1
≥ $250 000
$15
≥ $100 million

Tier

2
≥ $100 000
$20
≥ $50 million

Tier

3
≥ $50 000
$25
≥ $25 million

Tier

4
≥ $10 000
$30
≥ $10 million

Tier

5
< $10 000
$35
< $10 million
*per USD $1,000,000 traded volume
All figures are quoted in USD